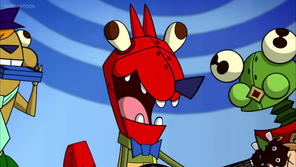 Whoopee
is the mascot of
Whoopee World
. Whoopee is voiced by
Jed Elinoff
, and Whoopee 2 is voiced by
Bill Hader
.
Appearance
Whoopee is usually seen in many forms around Whoopee World, from a guy in a Whoopee costume to stuffed Whoopee animals. There's also a Whoopee animatronic, which fans love and adore. When Whoopee is taken away by Randy and Howard in "Whoopee 2: The Wrath of Whoopee 2", Viceroy creates a replacement called Whoopee 2, who is mean-spirited and plans to destroy his predecessor. Thankfully, before Whoopee 2 can pull it off, Randy saves the original Whoopee and Whoopee 2 falls to his destruction.
Trivia
He is similar to Chuck E. Cheese. 
Ad blocker interference detected!
Wikia is a free-to-use site that makes money from advertising. We have a modified experience for viewers using ad blockers

Wikia is not accessible if you've made further modifications. Remove the custom ad blocker rule(s) and the page will load as expected.