"Stank'd to the Future"
Season 1, Episode 16
Prod. Code:
109a
Premiered:
March 4, 2013
"Stank'd to the Future" is the sixteenth episode of the first season of Randy Cunningham: 9th Grade Ninja. It premiered on March 4, 2013.
Synopsis
When Dickie, a frozen student from the 1980s, is turned into a crazy monster by the Sorcerer, Randy and Howard must reunite Dickie with his lost love, Tawny Zingwald, before the school is destroyed.
Plot
Coming soon!
Characters
Main characters
Secondary characters
Background characters
Trivia
Gallery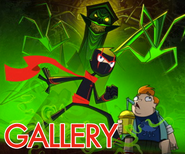 Click here to view the gallery.
Ad blocker interference detected!
Wikia is a free-to-use site that makes money from advertising. We have a modified experience for viewers using ad blockers

Wikia is not accessible if you've made further modifications. Remove the custom ad blocker rule(s) and the page will load as expected.