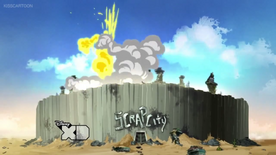 "
Scrap City. A lawless landfill of discarded, broken-down bots. To protect Norrisville from these cheesed-off machines, McFist Industries imprisoned them behind really high super-thick walls. No robot has ever escaped. No human has ever entered...until now. Hannibal McFist is trapped in...Scrap City.
"

–Film footage voiceover
Scrap City is a junkyard located somewhere on the outskirts of Norrisville. It is where the most dangerous and defective machines are stashed and left to rust over. Randy Cunningham and Hannibal McFist end up crash-landing here when a battle on board McFist's hover ship gets out of hand. It is the main setting of the episode "Escape from Scrap City".
Trivia
Numerous robots from previous episodes make an appearance in the junkyard. Among them are:
Gallery