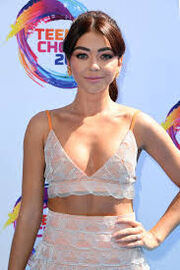 Sarah Jane Hyland
(born November 24, 1990) is an American actress best known for her role as oldest sibling
Haley Dunphy
on the ABC sitcom
Modern Family
.
Voices
Early life
Hyland was born in Manhattan, New York, the daughter of actors Melissa Canaday and Edward James Hyland. She is the older sister of actor Ian Hyland, who is four years younger.[1]
Hyland attended the Professional Performing Arts School in Manhattan alongside best friend Andrea Bowen, Taylor Momsen, Gregory Malek-Jones and Paul Iacono.[2]
See also
Ad blocker interference detected!
Wikia is a free-to-use site that makes money from advertising. We have a modified experience for viewers using ad blockers

Wikia is not accessible if you've made further modifications. Remove the custom ad blocker rule(s) and the page will load as expected.