Sam Healey
is a student at
Norrisville High
. 
He plays on Norrisville High's basketball team, "The Carps," and is one of Norrisville's Wave Slayers.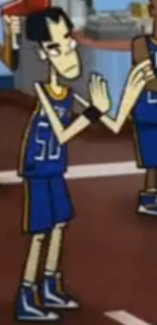 Trivia
We learn his name in Wave Slayers when Heidi announces it on her webcast of the Wave Slayer race.
He is shown in the background of numerous episodes, mostly when there is sports involved.
In Der Monster Klub, he's shooting hoops in the cafeteria while the gym is being rebuilt.
Images and Appearances
Ad blocker interference detected!
Wikia is a free-to-use site that makes money from advertising. We have a modified experience for viewers using ad blockers

Wikia is not accessible if you've made further modifications. Remove the custom ad blocker rule(s) and the page will load as expected.