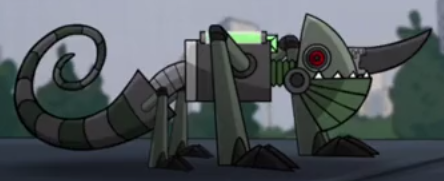 The Robo-Lizards are Viceroy's robots that can camouflage themselves and release sneezing powder in order to get booger samples.
Their first appearance is in "House of 1,000 Boogers", and they bent on getting booger samples for Viceroy and McFist, who are trying to match a student's booger to the Ninja's booger. They make a second appearance in "McOne Armed and Dangerous" attacking the Ninja in the gym.
Robot-Lizards are also an enemy in the game Punchocalypse.
The smaller head on the tongue is remisisent of the xenomorphs in the Aliens movies.
Images
Quotes
"Gazuntite"