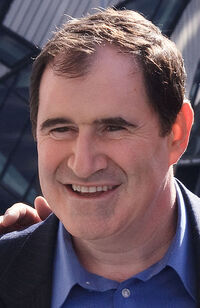 Richard John Kind (born November 22, 1956) is an American actor known for his roles in the sitcoms Mad About You (as Dr. Mark Devanow) and Spin City (as Paul Thomas Lassiter).
Voices
Early life
Kind was born to a Jewish family, in Trenton, New Jersey, the son of Alice, a homemaker, and Samuel Kind, a jeweler who formerly owned La Vake's Jewelry in Princeton, NJ. Together with his younger sister, Joanne, he grew up in Bucks County, Pennsylvania. Richard attended Pennsbury High School with fellow thespian, Robert Curtis-Brown. Kind is a 1974 graduate of Pennsbury High School and a 1978 graduate of Northwestern University where he was in the fraternity Sigma Alpha Epsilon. He is also an alumnus of The Second City Chicago and lives in Santa Monica.
See also
Ad blocker interference detected!
Wikia is a free-to-use site that makes money from advertising. We have a modified experience for viewers using ad blockers

Wikia is not accessible if you've made further modifications. Remove the custom ad blocker rule(s) and the page will load as expected.