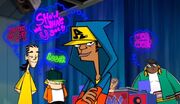 Rhymez's Rap Posse
is a group consisting of:
Rudd Rhymez
,
Tiny Timmy Scratch-It
, and two unnamed students.
Description
The posse takes rapping and rhyming very seriously and likes to compete against others. During lunch they competed with Bash Johnson, and they competed in Word War One with Randy and Howard in "Hip Hopocalypse Now".
The two members who haven't spoke seem to be friends of Julian, as they were at his birthday party in Julian's Birthday Surprise.
Ad blocker interference detected!
Wikia is a free-to-use site that makes money from advertising. We have a modified experience for viewers using ad blockers

Wikia is not accessible if you've made further modifications. Remove the custom ad blocker rule(s) and the page will load as expected.