"Ninjception"
Season 2, Episode 18
Prod. Code:
210b
Premiered:
November 27, 2014
"Ninjception" is the eighteenth episode of the second season (and seventieth episode overall) of Randy Cunningham: 9th Grade Ninja. It premiered on November 27, 2014.
Synopsis
Stuck in a dream-within-a-dream-within-a-dream, Randy must figure out how to escape the loop.
Characters
Main characters
Secondary
Gargoyle monster
Poodle moth monster
Gila monster
Tentacle-faced monster
Background characters
Gallery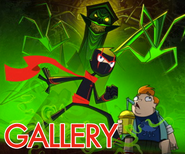 Click here to view the gallery.
Trivia
The title is based off the 2010 film Inception.
This is the first episode to show Randy in his pajamas.
The Ninja 9 symbol appears on the monsters in Randy's dream trying to take the ball.
The Sorcerer's key makes its first reappearance since its premiere in "Randy Cunningham and the Sorcerer's Key".
The colorful leaves seen blowing in the dream world are similar in appearance to those in the film Pocahontas.
The first dream includes the reappearance on the Norrisville Van Dam.
The game that Randy and Howard played is a reference to the Space Jam theme song.
The title of the film that Randy and Howard are watching in one dream, Silt Wars Episode 3: Revenge of the Silt, is based off the 2005 film Star Wars Episode III: Revenge of the Sith.
Goof: apparently Randy and Howard are now capable of touching the Chaos Pearl without getting corrupted by it.
Ad blocker interference detected!
Wikia is a free-to-use site that makes money from advertising. We have a modified experience for viewers using ad blockers

Wikia is not accessible if you've made further modifications. Remove the custom ad blocker rule(s) and the page will load as expected.