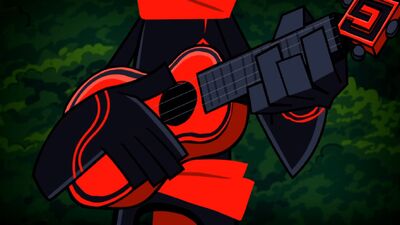 Ninja Ukulele 
is a musical instrument.
Appearance
It looks similar to a normal ukelele except for the red and black colors and the Ninja symbol on the top.
Description
They are used to destank a monster and works similar to a normal ukelele.
Trivia
It is only shown in "Ninjafan".
This is the first ninja item that is shown to be an instrument.
Interestingly, ukuleles are not Japanese instruments, but rather, they are instruments from Hawaii.
Ad blocker interference detected!
Wikia is a free-to-use site that makes money from advertising. We have a modified experience for viewers using ad blockers

Wikia is not accessible if you've made further modifications. Remove the custom ad blocker rule(s) and the page will load as expected.