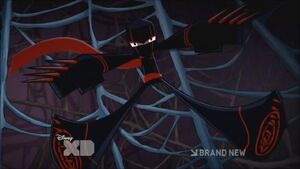 Ninja spikes
 can appear out of the
Ninja Suit
and can help the
Ninja
climb. 
Description
The spikes can be used in an offensive manner, like punching and kicking with the spikes on. This ninja tool is important if the Ninja needs to climb over a wall to sneak into a place or to avoid enemies .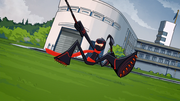 Randy has used this ability on many occassions. He used them to fight a Robo-Frog in Monster Drill, and to break free of Julian's web in Der Monster Klub.
Ad blocker interference detected!
Wikia is a free-to-use site that makes money from advertising. We have a modified experience for viewers using ad blockers

Wikia is not accessible if you've made further modifications. Remove the custom ad blocker rule(s) and the page will load as expected.