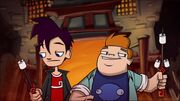 Sai is a weapon used by the
Ninja
.
Technique
For defense, a sai helps block attacks. The offensive manner is used differently, though. Sai is more for stabbing than slashing compared to the Ninja sword. It is sharp enough to stab into the body of a Robo-Ape. It can also be used to pin an enemy down.
Trivia
After just learning not to abuse swords and/or other weapons in "Sword Quest", Howard and Randy are using sai to roast marshmallows, only for S. Ward Smith to stop them and scare them out of his secret lair.
Every time Randy breaks the Eye of Eternity (both accidental and on purpose), he uses the sai.
Ad blocker interference detected!
Wikia is a free-to-use site that makes money from advertising. We have a modified experience for viewers using ad blockers

Wikia is not accessible if you've made further modifications. Remove the custom ad blocker rule(s) and the page will load as expected.