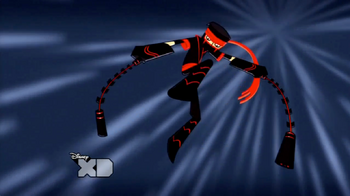 Ninja 

Manrikigusari 

utilized by the ninja are a highly versitle weapon in battle. 
Appearance
They're a set of twin sticks linked together on a segmented chain blade which can stretch up to great lengths even attacking from long distances, or they can be reconnected at the base to for a pair of short stick Billy Clubs in battle as well.
Appearences
Episodes
Ad blocker interference detected!
Wikia is a free-to-use site that makes money from advertising. We have a modified experience for viewers using ad blockers

Wikia is not accessible if you've made further modifications. Remove the custom ad blocker rule(s) and the page will load as expected.