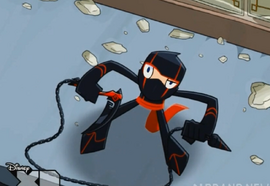 The Chain Sickle
(
Guadañas Ninja
in Latin Spanish) is one of the
Ninja's
weapons. It has a spearhead like part on one end and on the other end is a small black and red sickle.
The Ninja can throw the sickle to act somewhat like the Ninja Scarf to wrap around the opponent to pull them down. The Ninja can also throw the sickle in order to slice an enemy. This weapon is frequently used by Randy, often on large opponents or multiple enemies.
Trivia
This is Randy's second most used weapon other than the Ninja Sword.
This is the second weapon included in the Title Sequence.
Ad blocker interference detected!
Wikia is a free-to-use site that makes money from advertising. We have a modified experience for viewers using ad blockers

Wikia is not accessible if you've made further modifications. Remove the custom ad blocker rule(s) and the page will load as expected.