"Night of the Living McFizzles"
Season 1, Episode 11
Prod. Code:
106b
Premiered:
October 15, 2012
"Night of the Living McFizzles" is the eleventh episode of the first season of Randy Cunningham: 9th Grade Ninja. It is the second part of a two-part Halloween special, and it premiered on October 15, 2012.
Synopsis
Zombies appear in town on Halloween night.
Plot
After riding a haunted house ride with Theresa and Debbie Kang, Randy tries to hide the fact that he was scared on it to avoid being humiliated. Howard is mad, and tries to reveal that he was scared, but with no luck.
Meanwhile, at McFist's house, McFist's attacked by a zombie, and then scared by Viceroy. Viceroy then explain that because of the combination of McFist's top secret weapons factory with the public candy factory, the newest and most popular candy, McFizzles, have been weaponized, turning anyone who eats them into zombies who crave candy.
Characters
Main characters
Secondary characters
Background characters
Trivia
Gallery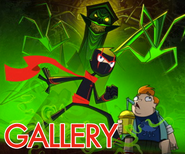 Click here to view the gallery.