"Are you a Ninja?"

This page is a stub. Help the Randy Cunningham: 9th Grade Ninja Wiki by adding more information to this page.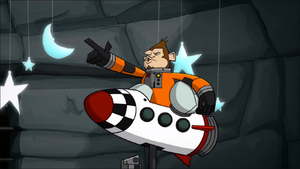 Neil Apestrong is an ape that has been to the moon. He lives in the Norrisville Zoo in Norrisville.
Apestrong is briefly shown in "McFists of Fury", and has an important role in "Rise of the Planet of the Robo-Apes". In "The Space Cow-Bros", he has an important role.
Trivia
He is named after the famous astronaut Neil Armstrong, who actually did go to the moon.
He can communicate with other apes, like how he talks to the Robo-Apes in "Rise of the Planet of the Robo-Apes".
He has a float in the McFistival Parade in "Bring Me the Head of Ranginald Bagel!".
He is married and lives outside of Norrisville.
Apparently, he is the only animal of the show who is in the good side.
Ad blocker interference detected!
Wikia is a free-to-use site that makes money from advertising. We have a modified experience for viewers using ad blockers

Wikia is not accessible if you've made further modifications. Remove the custom ad blocker rule(s) and the page will load as expected.