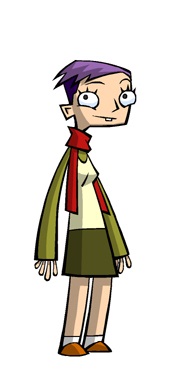 Nameless Girl with Lavender Hair
is a student who attends
Norrisville High
.
Trivia
She is based off of RC9GN's animator Noel Belknap.
In Dawn of the Driscoll, she is dressed up as a mummy. She becomes a zombie later in Night of the Living McFizzles.
As she's searching for something to grab at the cafeteria's frozen section in Sorcerer in Love, Randy, who's looking for something of true beauty to please Amanda with, pops out from the freezer, shocking her.
In Let The Wonk One In, she is dressed up in the same costum of a mummy. Later, Halloweenja turns her into a real mummy.
Images and Appearances
Ad blocker interference detected!
Wikia is a free-to-use site that makes money from advertising. We have a modified experience for viewers using ad blockers

Wikia is not accessible if you've made further modifications. Remove the custom ad blocker rule(s) and the page will load as expected.