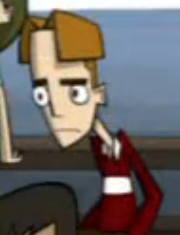 Nameless Boy with Red Shirt
is a student who attends
Norrisville High
.
Trivia
He has his first speaking role in "Lucius O'Thunderpunch" as he gets a keychain from Lucius and wishes he had keys.
He is usually seen slouched with his hands in his pockets.
He has another speaking role after McFist says that he wanted to blast the ninja to pieces in "McOne Armed and Dangerous", to which the nameless boy replies, "Not cool."
He had a third line in "Fake Fight For Your Right to Party" saying, "Hey what, check it out," leaving him as the nameless boy with the most lines.
In "Night of the Living McFizzles" he is probably the boy dressed in a Frankenstein monster costume, since that boy's design is similar, aside from the costume, and he also slouches and holds his hands in his pockets.
Images and Appearances