"Happy Hanukkah, Howard Weinerman!"
Season 2, Episode 19
Prod. Code:
RC224
Premiered:
December 3, 2014
"Happy Hanukkah, Howard Weinerman!"
is the nineteenth episode of the
second season
(and seventy-first episode overall) of
Randy Cunningham: 9th Grade Ninja
and a holiday special. It premiered on December 3, 2014.
Synopsis
Howard must save Greg's Game Hole by learning the true meaning of Hanukkah.
Characters
Main characters
Secondary characters
Background characters
Gallery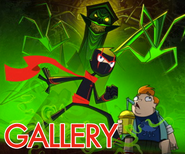 Click here to view the gallery.
Trivia
This episode revealed Howard is Jewish.
Ninja has an ability to make ice by combining Air Fist and Hydro Hand.
Although Hanukkah-based, this episode is the second Christmas-themed episode after "Silent Punch, Deadly Punch".
This episode and "Snow-Klahoma!" are being premiered for Disney XD's Holiday Log Jam.
Randy learns the Hydro Hand, a technique previously used by Mac Antfee in "Enter the Nomicon" .
It's the first time Randy shlomp into the NinjaNomicon and is not seen the inside of it nor how he learns from it.
Running Gag: McFist flash backing to previous Christmases.
Apparently, Greg is a very lazy person.
Ad blocker interference detected!
Wikia is a free-to-use site that makes money from advertising. We have a modified experience for viewers using ad blockers

Wikia is not accessible if you've made further modifications. Remove the custom ad blocker rule(s) and the page will load as expected.