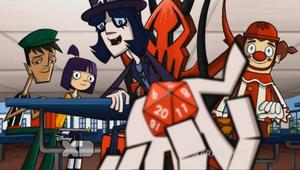 Der Monster Klub is a club consisting of Norrisville High's least popular students. They meet during lunch and roleplay as monsters who get revenge on jerks everywhere. They appeared in the episode of the same name.
Members
Trivia
All of the members tried out for the talent show in "So U Think U Can Stank". Julian didn't appear, but his name was on the list.
While not officially joining the Klub, Randy and Howard sat with them one time in the eponymous episode, but Randy slipped a ninja secret that resulted the whole Klub getting stanked, and didn't sit with them again afterwards.
All of the Klub members except Dave were shown sitting together in "Nukid on the Block".
Ad blocker interference detected!
Wikia is a free-to-use site that makes money from advertising. We have a modified experience for viewers using ad blockers

Wikia is not accessible if you've made further modifications. Remove the custom ad blocker rule(s) and the page will load as expected.