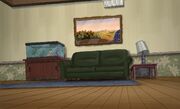 Randy Cunningham's house
is most likely in the suburbs of
Norrisville
.
The house has a brownish orange color and a purple roof and matching purple garage door. The main door however, is dark brown. In front of the house, there is a wooden porch. It is possibly not far away from the school since Randy can walk there as seen in "McFists of Fury". He also rode home on his bike in "Last Stall on the Left" to look into the NinjaNomicon during his "bathroom break". It was first seen in "Attack of the Killer Potatoes". The only part of the house that is seen from the inside is Randy's room. The window of his room is on the same side of the house as the garage. The house is also seen in the episode "House of 1,000 Boogers" where Randy and Howard punch each other to get into the Bash Splash.
As of "Ball's Well That Friends Well ", the Cunningham has sold their house. 
Ad blocker interference detected!
Wikia is a free-to-use site that makes money from advertising. We have a modified experience for viewers using ad blockers

Wikia is not accessible if you've made further modifications. Remove the custom ad blocker rule(s) and the page will load as expected.