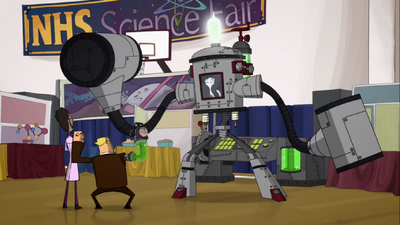 The
Cat-Poop-Powered Robot
is an invention created by
Willem Viceroy
originally for
Bash Johnson
's science fair project in
Attack of the Killer Potatoes.
It's a machine that could turn cat poop into energy. Unfortunately for Bash,
Marlene Driscoll
marked this project with a C. The robot was fully activated when the killer potatoes created from the
Fart Box
shooting
Bucky Hensletter
's potato-remote project were rampaging through the gymnasium and destroying everyone's science projects. Randy as the ninja was able to destroy it by forcing it to smash all the potatoes, causing it to slip and fall on the mashed vegetables and explode. The robot was later dropped off at
Scrap City
.
Ad blocker interference detected!
Wikia is a free-to-use site that makes money from advertising. We have a modified experience for viewers using ad blockers

Wikia is not accessible if you've made further modifications. Remove the custom ad blocker rule(s) and the page will load as expected.