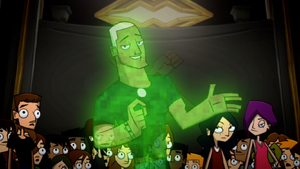 Brock Octane (Brocko Octano
in Latin Spanish) is the guide at
McFistory History Pavilion
. It is also mentioned by
Viceroy
that Brock Octane is the 'actor' of the main character from
Grave Puncher
. Similarly, they both have the same voice actor.
A movie cut-out advertising Preschool Sheriff, bearing a strong resemblence to Octane, is seen as a quick visual gag in Rise of the Planet of the Robo-Apes. This riff on Vin Diesel's Kindergarden Cop is destroyed during the Robo-Apes' 'Ape Mode' rampage.
Ad blocker interference detected!
Wikia is a free-to-use site that makes money from advertising. We have a modified experience for viewers using ad blockers

Wikia is not accessible if you've made further modifications. Remove the custom ad blocker rule(s) and the page will load as expected.