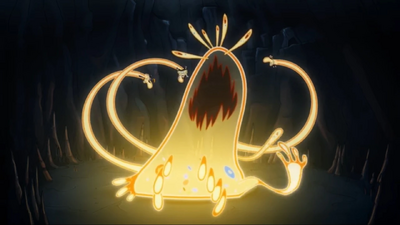 The Blob Monster is a monster accidentally created by
Willem Viceroy
. After
Hannibal McFist
ordered Viceroy to scrap his blob-weapon project, Viceroy hires
Gene Levine
to get rid of all the blobs. Viceroy grow attached to one of the blobs which he names
Nicholas
but while he wasn't looking, Gene took Nicholas to be disposed of like the rest. Viceroy notices Gene leaving with Nicholas and goes after him. Gene drives up to
Mt. Chuck
and dumps all the blobs in there. After an arguement between Viceroy and Gene, Nicholas jumps into the crate on his own and Viceroy forces Gene to help him save the blob. Meanwhile Randy and Howard are fighting over nachos, which contain the toxic chemicals needed to make the blob monster. The nacho container falls into the volcano and makes contact with the blobs, which leads to a chemical reaction that forms the blob monster, which can only be defeated with fire. The Ninja ends up opening up the vault that was holding the lava in order to destroy the blob monster successfully.
Ad blocker interference detected!
Wikia is a free-to-use site that makes money from advertising. We have a modified experience for viewers using ad blockers

Wikia is not accessible if you've made further modifications. Remove the custom ad blocker rule(s) and the page will load as expected.