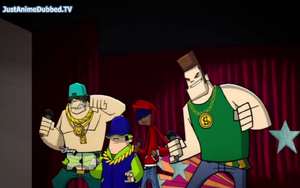 Bash & The Bros (Bash & Tus Hermanos in Latin Spanish) is a band founded by Bash Johnson. The band was at the Norrisville High Talent Show where they won. They performed again in 30 Seconds to Math for the Battle of the Bands.
Members
Ad blocker interference detected!
Wikia is a free-to-use site that makes money from advertising. We have a modified experience for viewers using ad blockers

Wikia is not accessible if you've made further modifications. Remove the custom ad blocker rule(s) and the page will load as expected.