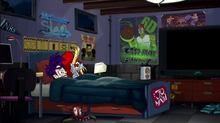 The Art of Escape is a skill taught in the NinjaNomicon.
Description
When needing to escape, the Ninja can make a dummy to replace him and trick others long enough to escape through the window or opening. But as the Nomicon warns, "deceit comes at a price."
Randy uses this so that he and Howard can escape Howard's house to see the movie without getting caught by Heidi. It backfires because Howard and Randy put a MP3 among their dummies with farting sound effects, but there wasn't a smell which lead her to suspicion.
Randy and Howard also use this skill to break into movie theater, but while Randy thought of going through the sewers and into the bathroom, Howard more logically suggested going through the window to the room where the 6D projector is.
Trivia
Ad blocker interference detected!
Wikia is a free-to-use site that makes money from advertising. We have a modified experience for viewers using ad blockers

Wikia is not accessible if you've made further modifications. Remove the custom ad blocker rule(s) and the page will load as expected.