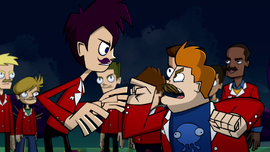 The Art of Disguise
) is a power learned by the
Ninja
.
Description
The Ninja can change/alter their physical hair growth by focusing their ninja energy. If they loose control, the energy will master the Ninja, like major hair growth. It can be used in combat to fight, even if the Ninja can't move at all because it just requires focus.
In Secret Stache, Randy used this skill to grow a mustache, enabling him to sneak into the Secret Stache party held by McFist. However, he lost control, resulting in 'dog face." But actually turned out to be a good thing, hiding his face so that McFist and Viceroy couldn't tell it was him.
Trivia
Ad blocker interference detected!
Wikia is a free-to-use site that makes money from advertising. We have a modified experience for viewers using ad blockers

Wikia is not accessible if you've made further modifications. Remove the custom ad blocker rule(s) and the page will load as expected.