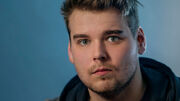 Andrew Caldwell
(born July 25, 1989) is an American actor.
Voices
Career
He appeared on Hannah Montana as Thor, a new kid from Minnesota that Jackson befriends. He also plays the bully, Bubba Bixby, in the Nickelodeon movie, Shredderman Rules, which was based on Wendelin Van Draanen's book series. He also provided the voice of the teenage Avatar Roku in Avatar: The Last Airbender. In 2007, Caldwell appeared in the film Transformers who played as Cafe Kid.
See also
Trivia
Andrew played as Thor on Hannah Montana which Jason Earles stars in. 
Ad blocker interference detected!
Wikia is a free-to-use site that makes money from advertising. We have a modified experience for viewers using ad blockers

Wikia is not accessible if you've made further modifications. Remove the custom ad blocker rule(s) and the page will load as expected.