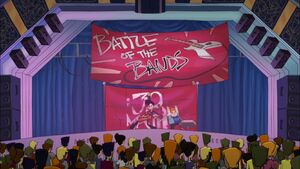 30 Seconds to Math
is Randy and Howard's synthesized duo band, which first appeared in the episode of the same name, "
30 Seconds to Math
".
Members
Current
Randy on the keytar
Howard on the beats (eletronic drums)
Former
Levander Hart on the guitar (hired for his equipment and fired for his awful guitar playing)
Appearances
Trivia
The band's name is based on the real world band 30 Seconds to Mars.
The line in the song (detention deficit disorder) is based on ADD, attention deficit disorder.
So far, the band made performed with other musicians twice:
While not officially as their band, Randy and Howard are seen practicing their instruments in "Silent Punch, Deadly Punch" and "McFreaks".
Howard joins Bucky's band in "Everybody Ninj-along", but he tells Randy that it doesn't mean he's left their band--although he will if Bucky's band ends up becoming greater.
Ad blocker interference detected!
Wikia is a free-to-use site that makes money from advertising. We have a modified experience for viewers using ad blockers

Wikia is not accessible if you've made further modifications. Remove the custom ad blocker rule(s) and the page will load as expected.